Space Weather Update – Entering a Solar Wind Strem
GREEN SKIES FOR ST. PATRICK'S DAY? NOAA forecasters estimate a 20% chance of geomagnetic storms around the poles on March 17th in response to a high-speed solar wind stream buffeting Earth's magnetic field. Northern Lights could descend all the way down to Ireland, concluding St. Patrick's Day with a flourish of heavenly green. Aurora alerts: text,phone.
Just outside Edmonton, Alberta, photographer Zoltan Kenwell started celebrating a day early when this display appeared on March 16th: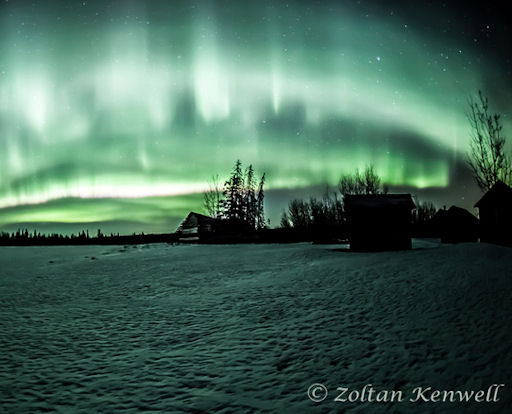 "I have never seen the auroras dance so quickly before. It was an unbelievable show," says Kenwell. "The view looking straight up was incredible. I laid down in the middle of a field and just watched in total amazement. Here is a time-lapse movie."
more images: from Shawn Malone of Marquette, Michigan; from Thomas Achermann of Muonio, Finnish Lapland; from Ruslan Ahmetsafin of Aykhal, Yakutia, Russia; from Jaromir Stanczyk of Iceland; from Rich Stromberg near Anthracite Ridge, Alaska; from Andrei Penescu of Kangerlussuaq, Greenland; from Matt Moffetof Bozeman, Montana; from Nate Deppe of Virginia, MN;from Iurie Belegurschi of Þingvellir National Park, Iceland; from Brian Whittaker flying 36,000 feet over Greenland; from Travis Novitsky of Grand Portage, MN;from Lance Parrish of Skiland, Alaska;
SCINTILLATION SQUIGGLES: Everyone knows that stars twinkle but planets do not. The reason has to do with angular size. Stars are distant pinpricks smaller than the thermal irregularities in Earth's atmosphere that refract their light. Each packet of air that passes in front of a star produces a well-defined change in color or brightness. Planets, on the other hand, are relatively nearby and wide; they span many atmospheric irregularities, which tends to smooth out the prismatic action.
Photographer Monika Landy-Gyebnar of Veszprem, Hungary, has found a kinetic way to demonstrate the effect. "When photographing a star or planet, kick the tripod during the exposure." She's applied this technique to many stars and planets, and the resulting collection of squiggles reveals the character of their twinkles: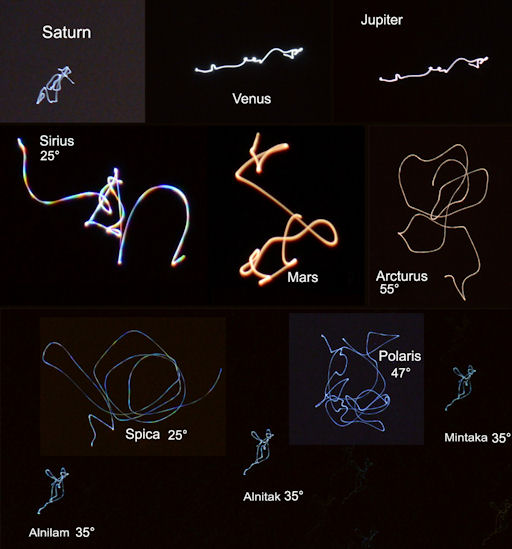 "If we take a photo of a star with a shaking camera, the result is a wavy line with many colors," she points out. "If we photograph a planet, however, there is no change; the color and width of the squiggle are nearly constant."
The scintillation effect is greatest for stars near the horizon, which must shine through a greater distance of turbulent atmosphere. Angles noted in the image above are altitudes. The lowest-hanging stars display the strongest and most colorful twinkling.
"Demonstrating this is a 'must-do' thing when you give a lecture or show on astronomical observations for novices," she concludes. Observing tips and more of Landy-Gyebnar's "scintillation squiggles" may be foundhere.


Solar wind
speed: 666.8 km/sec
density: 0.6 protons/cm3
explanation | more data
Updated: Today at 1526 UT

X-ray Solar Flares
6-hr max: B3 1120 UT Mar17
24-hr: C1 0312 UT Mar17
explanation | more data
Updated: Today at: 1500 UT



Daily Sun: 17 Mar 12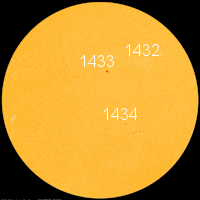 Solar activity is dropping now that big sunspot AR1429 has rotated off the Earth-facing side of the sun. Credit: SDO/HMI



Sunspot number: 104
What is the sunspot number?
Updated 16 Mar 2012
Spotless Days
Current Stretch: 0 days
2012 total: 0 days (0%)
2011 total: 2 days (<1%)
2010 total: 51 days (14%)
2009 total: 260 days (71%)
Since 2004: 821 days
Typical Solar Min: 486 days
Updated 16 Mar 2012
The Radio Sun
10.7 cm flux: 99 sfu
explanation | more data
Updated 16 Mar 2012



Current Auroral Oval:

Switch to: Europe, USA, New Zealand, Antarctica
Credit: NOAA/POES



Planetary K-index
Now: Kp= 2 quiet
24-hr max: Kp= 4 unsettled
explanation | more data

Interplanetary Mag. Field
Btotal: 4.8 nT
Bz: 3.9 nT south
explanation | more data
Updated: Today at 1526 UT



Coronal Holes: 17 Mar 12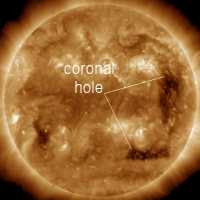 Earth is entering a solar wind stream flowing from this coronal hole. Credit: SDO/AIA.