Monthly Archives:
November 2011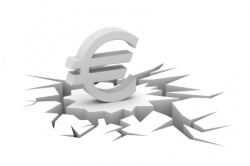 The vagueness of the outcome of the discussions last night at the Euro Top  is  the signal towards the end of the system.  The Euro Top  could not find any  solution. The countries still  bickering about the old trenches they have been in for years did not help at all.  The ESFF (the Euro fund to save the system) has died last night.  The last resource they see in the IMF. The IMF  has an undefinable role to get money from somewhere. The arguments are that they are obligated to help the Euro because of the repercussions International. They shout the names of the BRIC countries (Brazil, Russia, India,China) and the USA. These will not pump any money in the system that is about to explode. The coming ten days so to say are crucial but there is already no solution. It is clear the Euro is finished in its present form and I personally think in any form hereafter. The walls come crushing down on the system one by one. Hooray, will this be the moment the new system could be rolled out and give the people back that was taken from them.  We will see.
Love and Light,
Lucas
(c) 2011 – Copyright of Lucas, all writings, channelings of Lucas only may be published, re-blogged and posted with the name and http:// link to the original article  and or http://www.lucas2012Infos.wordpress.com blog mentioned in the article with name of the author/channeler Lucas.
What a crazy life I lead right now. There's so much happening and so much to write about and at the same time I'm tied to the ground by the need for confidentiality. My orders in serving are at one and the same time transparency and confidentiality.
How I'm going to handle this is to be transparent about confidentiality – tell you what I've learned from my short sojourn among Earth allies fighting for … well, I can't talk about it.
What a Catch 22. But I'm up for it if you're up for it.
People observe confidentiality for numerous reasons. Their life or the life of another may be at stake. The success of a vital project may be at issue. The successful outcome of a war, constitutional rights, freedom, livelihoods, any number of matters might induce a person to agree to be confidential. And that is for lightworkers. Read the rest of this entry →
Note from Wes: I am posting this here and keeping it stuck to the front page for a while as Steve has conveyed  exactly how I have felt about this whole ordeal. Blossom is a dear soul who has been a great aide to humanity, and her messages from the Galactic Federation have inspired us all and have reassured us that we are working toward a Heavenly and wonderful future. It is nearly with tears in my eyes and heavy emotion in my heart that I thank Blossom for the nothing short of wonderful service she has provided to humanity. She is a hero and an angel.
Take it away Steve :)
http://2012indyinfo.com/2011/11/30/thank-you-blossom-the-occupy-2012-scenario/
Having read Blossom's farewell message to the Galactic Federation, (1) my heart goes out to her and some of you have written and said your heart goes out to her as well.
For those of you who aren't aware, Blossom was placed in a very stressful and disappointing position at having been asked to be the messenger of a planned disclosure for Oct. 14, 2008 that did not occur and caused everyone who knew about it endless concern. Many other channels as well said that disclosure on that day would happen. And some explained why it did not – the safety concerns at a reported backlash from the dark.
Now here Blossom is again: the GF has said that pillars of light will appear and we're still waiting. Enough is enough.  Whether or not they'll occur, we terrestrials can get tired of waiting.
On Oct. 15, 2008, a day after the failed appearance, I personally was asked to leave my spiritual group because I was talking about space beings, which was too much for them. And I blasted Adamu at the time for being unreliable and yet asking us to risk in defence of them and trust their word when they couldn't get their dates right. That's what I said.
And of course you can see that Adamu and I now communicate with and enjoy each other so nothing was lost, just as the GF has reassured Blossom and will, I believe, continue to esteem her and her body of work.
Blossom carried the burden of being the voice for the GF's messages a long time and she's done it with grace, integrity, and reliability. None of the galactics, celestials or ascended masters would ask anyone, as far as I know, to continue with a mission past the point where they felt comfortable, were weary, felt unable to buy what was being said, or whatever other concern they might have.
I just had a tete-a-tete with AAM the other day in which I said to him, now look here, you said this and it doesn't seem to have happened. His explanation satisfied me completely. The Company of Light is not vindictive or any such thing.
The request from a lightworker that they be relieved of duty is, as far as I'm aware, never an occasion for disappointment or judgement  with them and, in my opinion, neither need it be from us.  I've greatly benefitted from Blossom's channeled messages and will always be grateful for them.
I'm also seeing a little more of the other side of the question too these days. I see how situations change. I see how determined an adversary we face. It only takes a little first-hand experience to see what the Company of Light is up against, what standards the Light follows, and how we're conditioned to see things differently than they.
But there has to be a let-up for someone who has "gone about as fer as she can go," as the song says. (2)  There has to be the option to retire from the field with honor.
So, Blossom, job well done.  Speaking on behalf of your friends, if I may, no dishonor attaches to asking for a rest, a change, a new assignment.  You've served us all well under trying circumstances and we offer you our thanks and appreciation.
I told you this after Oct. 14 and I tell you again now: It takes amazing courage to put yourself out there this much and maintain your openness at the same time as ensuring your integrity. I'm glad this assignment is complete for you and wish you the very best in whatever you decide is next.
Footnotes
(1) http://www.blossomgoodchild.com/index.html?page=BG127nov29.html
(2) Rodgers and Hammerstein's musical Oklahoma!